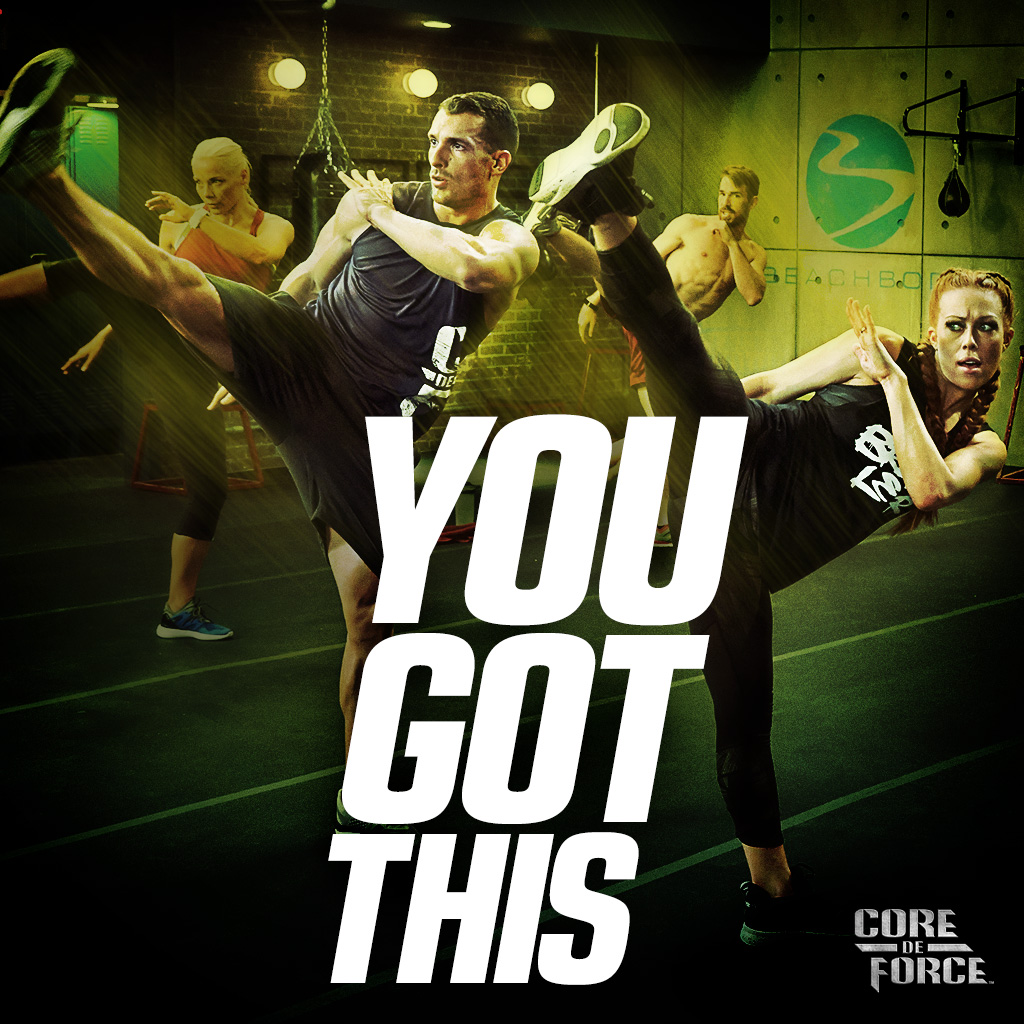 The other day someone mentioned that I was really fit. Of course my first reaction was "who, me?" I've never really considered myself fit. Thin, at times, but never fit. I guess, when you think about it, working out regularly will get you there, a nd Icredit Core de Force for getting me there.
This Beachbody workout is for you if you want to work your ass off (literally), want that bikini body, have a lot of pent up anger and need an outlet to release it, enjoy hard work, and/or aren't afraid of looking like a fool (at first anyway). It's labeled intermediate, but it's hard. You really have to work for it to get results – that means no wimpy punches or baby kicks. You need to put in all the effort "until the bell."
Core de Force lasts 30 days without a rest day. Since it's such a short program, you work hard from beginning to end. The last day of the week is as close as you'll come to resting – give your body a break with Active Recovery. You're still working, but you're loosening up those muscles and preparing for another week of tough work. If you get the Deluxe package, you get a few additional workouts to help you burn more calories and get fit faster – some of these focus on toning the bum (aka MMA Kick Butt).
I have a serious love-hate relationship with Core de Force. I hate the push-ups, but I love the MMA workouts. Dynamic Strength is my absolute worst enemy – if you take the challenge, you'll see why. What's enticing about this program is that it's only 30 days and you can do anything for a month. You definitely feel like you're working out, but the trainers are great and help you get through it. There is also a modifier who does – you guessed it! – less intense, but still powerful, versions of the exercises. Routines are upwards of 30 minutes. Some days you'll have two, which could bring the time up to an hour. It's really not bad when you plan for it. Even if you don't usually sweat (like me), you'll be drenched by the end, and I mean hair soaking wet. It feels good.
You may be wondering why I love it if it sounds so…bad? hard? Well, you get results. Fast. Plus, the workouts really are fun. You have 3-minute rounds where you go all out, a quick opportunity for a water break in between, and then go full force again. When you're doing it, you hate yourself, you're cursing the trainers, and you literally just want it to be over. Then, when it is over, you want more. That's why I'm currently in my second round.
This is the second program I've purchased digitally from Beachbody on Demand (BOD)*. I am so in love with my BOD subscription. Now you can purchase a monthly subscription for less than $9 and that gives you access to ALL the Beachbody programs available!
Note: I used to stream on the Amazon Firestick, but have since upgraded to the Apple TV and it was so worth it. The menus are better and so is the display. Highly recommend it. The only downside is that it's not as portable.
Before You Begin
Make sure to track your results! Take measurements, weigh yourself, and figure out your container breakdown (more details under "Nutrition").
Watch the move breakdown videos; trust me – they will come in handy.
Nutrition
Start each day off right – with breakfast. This can be a shake or another healthier option like sweet potato hash and eggs. I'm a fan of eating non-traditional breakfasts. Sweet potato chocolate chili, anyone?
A little Sunday meal prep can help you stay on track! I recently started using my Instant Pot for this and it has helped tremendously.
The program recommends eating small meals and healthy snacks throughout the day. I've gotten into the habit of eating 3 filling meals with minimal snacking. Do what works best for you. The included recipe booklet has fun meals such as BBQ Chicken Pita Pizza and Energy Trail Mix.
I love that the newer Beachbody programs all use the same container breakdowns. (NOTE: These will be updating soon to make it a little easier to convert recipes.) It makes it super easy to stay on top of your nutrition as you move through the programs. Use a simple formula to figure out how many of each container you get per day. My plan is based on a 1,200-1,499 calorie diet: 4Red (protein), 3Green (veggies), 2Purple (fruits), 2Yellow (carbs), 1Blue (healthy fats), 1Orange (nuts and seeds), and 2Teaspoons (oils). This turns out to be plenty of food, but if you're still hungry, and a glass of water doesn't do the trick, add another green or red. This plan can also be designed around a vegetarian or gluten free lifestyle.
The Portion Fix Containers help you eat just the right amount.
Make sure you are drinking plenty of water during the workouts and throughout the day – at least half of your body weight. It will cut down on hunger and keep you hydrated. You might even consider adding Beachbody Hydrate into your routine.
My favorite way to keep hydrated is with my healthy human water bottle.
Optional Equipment
Yoga Mat / Towel for elbow planks (the first round I got rug burn!)
Agility Ladder (Deluxe workouts only)
The Workouts
Workouts are switched up throughout the four weeks. Each varies from 6-12 three-minute rounds. You might not get them down right away, but you will as you repeat them. Again, the move breakdown videos are helpful.
Each week ends with a 21-minute Active Recovery (described above). Some days you'll supplement the workouts with 5 Minute Core on the Floor and 16-minute Core Kinetics. Both are tough, but will get you where you need to be. If your muscles are sore and you are so inclined, there is a Relief workout that can be done each night – and get this: the trainers show up in their jammies!
The Trainers
Joel Freeman – Elite personal trainer and one of the newest Super Trainers in the Beachbody family.
Jericho McMatthews – Self-proclaimed "fitness chameleon," new mommy (to the cutest baby!), and one of the newest Super Trainers in the Beachbody family.
The Results
Right now this is the newest program (but not for long!) and it has a lot of hype surrounding it. For good reason – it works. I read a ton of positive reviews online. You can expect to see results after the first week if you're consistent. This is my favorite program. I may whine about it, but I still look forward to my workouts every day. Overall, I lost 4.6 pounds and 4 inches during my first round, but most importantly, I gained strength and definition. Nothing compares to feeling confident in your own skin.
Bottom Line: I have and will continue to recommend this to all of my friends and family. Try it out for yourself. What's the worst that can happen? If you decide it's not really your thing, Beachbody offers a 30-day money back guarantee (less s&h). If you do like it and you see results, be sure to submit your before and after photos, weight, and measurements to the Beachbody Challenge and they will send you a FREE t-shirt. Either way, you really can't lose.
I know you know, but I have to say it anyway…always consult your doctor before beginning an exercise, fitness, and/or diet program.
*Other package options available online. Team Beachbody Club members save 10%, coaches save 25%.
Visit teambeachbody.com for more information on programs, to sign up for Beachbody On Demand, and to request me as your FREE coach! (Note: I will receive a commission from any purchase made through these Beachbody links – see full disclosure for more information.)